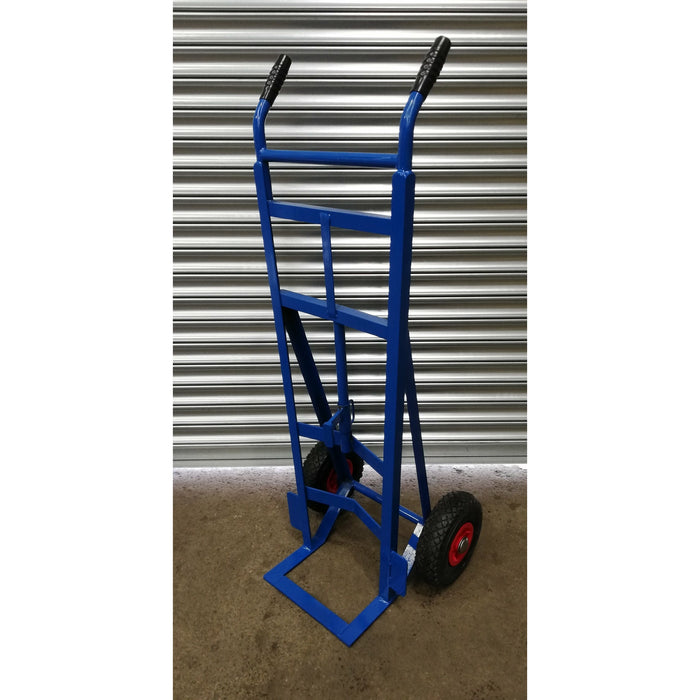 This beer barrel trolley is designed and manufactured by BlueTrolley to meet the needs of the brewing industry and will carry most standard barrels and kegs.
Designed specifically for moving beer barrels, this trolley features an adjustable catch which drops down onto the barrel to hold it securely into place and reduces movement in transit. 
The upright frame of the beer barrel trolley is curved in the centre to help prevent the barrels from rolling. The trolley has two sturdy handles to help move kegs or barrels with ease and both handles are fitted with black handle grips to provide maximum grip safety.
Manufactured with strong tubular metal and finished with a hard-wearing powder coat, this beer barrel trolley is built to serve its purpose and last a long time. 


When purchasing the beer barrel trolley, you have a choice of wheels:
Pneumatic wheels. These are air-filled and provide you with a smooth ride. These are the standard option for the beer barrel trolley.
Puncture proof wheels. These are foam filled wheels, which also provide a smooth ride, but you don't have to inflate them or deal with unexpected punctures. This option is an upgrade.


Product Features:
Overall dimensions (mm): 1230h x 550w x 420l
Toe plate dimensions (mm): 325l x 150d
Curved upright to help prevent the barrels from rolling
Fitted with a choice of either pneumatic or puncture proof wheels
This truck has a sliding catch to hold beer barrels and kegs securely

Fully welded and reliable construction
A professional, powder-coated blue finish