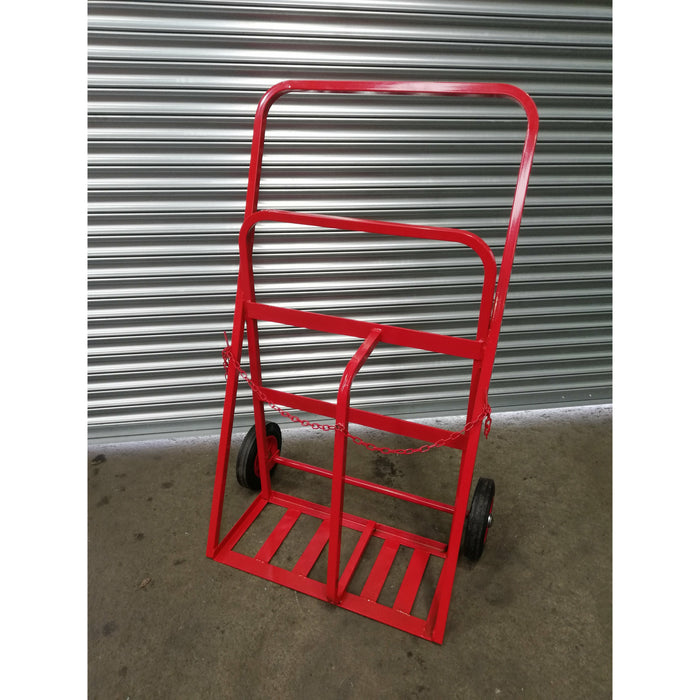 Twin Oxygen Propane Gas Cylinder Trolley | All Terrain Option Available
This twin oxygen propane double gas cylinder trolley is heavy duty and able to transport two cylinders - oxygen (W) and propane. The double gas cylinder trolley is fitted with large 10" solid rubber wheels for easy manoeuvrability over uneven surfaces. You can also purchase this cylinder trolley with 350mm pneumatic wheels - please see BT120/AT. The cylinder trolley is lightweight and supplied with an adjustable change to support the cylinder whilst the trolley is in use. 

Gas bottle trolleys, or double gas cylinder trolleys, are a vital piece of equipment when it comes to safely moving gas bottles that contain dangerous substances such as Liquefied Petroleum Gas (LPG). Without them, cylinders can be damaged in transit across the factory floor, and the people trying to move them are at risk of sustaining an injury - especially when it comes to moving heavy cylinders. 
Product Features:
Overall dimensions (mm): 1340h x 850w x 500d
Overall base width (mm): 700
Split base dimensions (mm): 400 x 270
Fitted with two 10" solid black rubber wheels / 350mm pneumatic wheels
Capacity: two gas cylinder
Suitable for oxygen (W) and propane cylinders
Fitted with an adjustable chain to restrain the cylinder
Fully-welded and reliable construction
A professional, powder-coated red finish