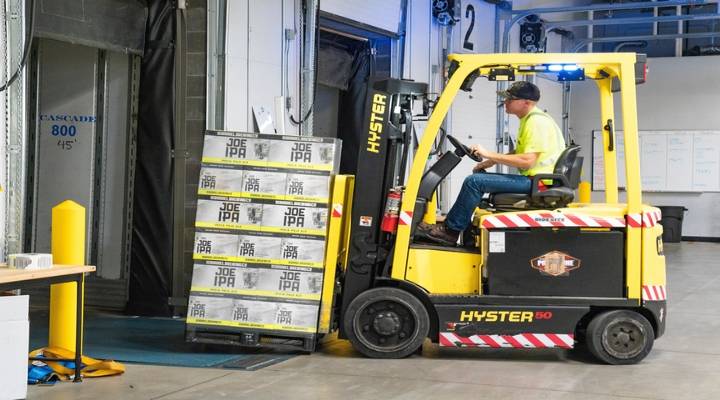 Material handling - what does it mean?
The term 'material handling' is quite a broad topic, and one that applies to a number of different circumstances. Not to mention, it also covers a wide variety of equipment. For this reason, it can be difficult to understand what equipment should be used to suit your specific requirements.
To give you a better understanding, we're taking a look at the different types of material handling equipment and their applications within a warehouse or factory setting.

Looking for a robust trolley?
Browse our material handling trolleys
What is material handling equipment?
In short, material handling involves moving, transporting and storing materials or products throughout the manufacturing and distribution process. There's a wide range of materials that need to be handled in production warehouses, ranging from tiny plastic parts to heavy structured products. he size and type of material will determine which equipment is best suited for the job.
There are four main categories of material handling equipment. These include storage, engineered systems,
industrial trucks
and bulk material handling.
1. Storage
Storage equipment is used to safely stow materials in warehouses and factories before they are transported from one place to another. The right storage equipment is extremely important for a number of reasons: it can increase workflow efficiency, prevent products being damaged and maximise the use of space. For more information about the importance of safe storage, have a look at our blog: 
Tips for effective inventory management
.
Storage handling equipment includes some of the following:
Pallet racking is typically made from metal, plastic or wood, and holds products or parts that are kept in large boxes.
Multi-tier racking is designed to make the most of the vertical space in a warehouse or factory. They generally hold lighter items that can be hand organised as densely as possible to make the most of the space.
Stacking frames are interlocking units that hold heavy-duty items and prevent crushing.
Static shelving are shelves that are designed to stay in one place. They generally hold lightweight items, and are used for items that have a high turnover.
Mobile shelving is an adjustable storage solution that involves shelves or cabinets being mounted on carriage and rail systems, allowing you to move items freely around the warehouse or factory.
Mezzanine flooring is an elevated floor (or floors) between the main workspace and the warehouse ceiling.
2. Engineered systems
An engineered structure generally involves using an automated system to move large and heavy materials around the warehouse or factory. Some examples of engineered systems include:
Automated storage and retrieval systems (more commonly known as AS/RS) are large automated structures that involve a machine - similar to a cherry picker - that can quickly place or remove items on racks or shelves.
Conveyor systems carry heavy materials quickly and efficiently using belts, flexible chains and live rollers.
Robotic delivery systems move goods within an assembly line, or transport items throughout a factory or warehouse.
Automatic guided vehicles are mobile robots that follow specific markers in the floor - such as wires, magnets or lasers - to move large materials.
Engineered systems are also used to transport large volumes of goods in a safe and efficient way. It's much easier to move lots of items with one method than to manually move each piece - take our word for it!
3. Industrial trucks and trolleys
The term 'industrial trucks and trolleys' can be applicable to many different types of equipment, all of which have on thing in common - they provide transportation. This can range from using a small hand-operated device to something larger and automated that can be driven. Many trucks are built specifically for the purpose of material handling, meaning that they often have flat surfaces, and have useful characteristics such as forks to help with the heavy lifting.
Here are some of the types of industrial trucks that can be used for material handling:
Pallet trucks are the most basic form of forklifts and are used to lift and move pallets.
Order pickers enable the user to move products to a variety of low to high levels in the warehouse.
Side-loaders are lifting attachments that can be fitted to a truck to ensure items are safely secured.
Walking stackers are defined as walk-behind pallet trucks that also have a mast for lifting pallets to heights.
Sack trucks are hand-operated L-shaped trucks that are generally used for moving boxes. The truck has handles at one end, with two wheels at the base and a small ledge for objects to be placed on.
In addition to trucks, various trolleys can also be used for material handling:
If you want more information about any of the trucks and trolleys listed here, or if you think you need an item specifically made for your needs, 
contact BlueTrolley today
.
4. Bulk material handling equipment
Bulk handling equipment is generally automated, and is used to move large volumes of goods from one area of the production floor to another. The type of bulk handling that you need will depend on the application, the products that need to be moved, and your site requirements. Here are a few examples of bulk material handling equipment and what they are used for:
Stackers are similar to forklifts in that they lift and stack heavy loads in the warehouse. Unlike forklifts, they are generally used in store rooms and smaller warehouses where an expensive forklift isn't required.
Reclaimers are large machines used to recover bulk materials from a stockpile.
A bucket elevator is a machine used to haul bulk materials vertically.
In addition to these, bulk material handling systems can also include the use of conveyor belts for horizontal transportation and elevators for vertical transportation.
What next?
As you can probably gather, there's quite a lot to get your head around when it comes to material handling equipment. If you have any questions about the uses of material handling, or if you'd like some advice on the best equipment for your requirements, 
contact BlueTrolley
. We can even provide 
custom-made items
for your handling needs, so get in touch today!