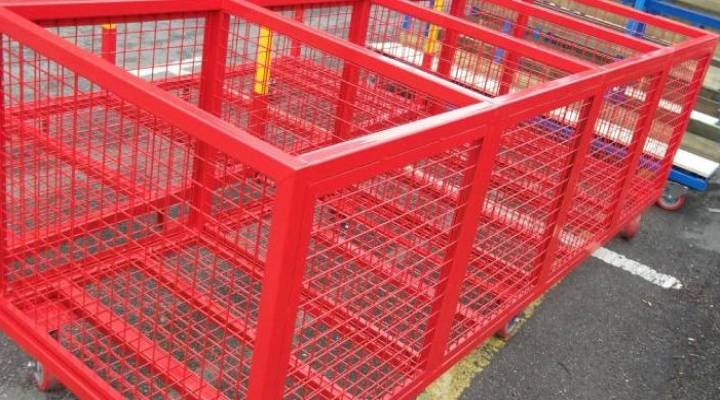 Common types of stillages
What is a stillage?
A 
stillage
is similar to a pallet but has some form of support that is tailored to the material or object that it is intended to carry. This could be sides, a cage, or anything else that helps to support the object that's being moved.
Stillages are usually produced from steel and are used to transport items without needing to load and unload. This saves time, minimises the risk of injury and prevents goods from being damaged. They can also be designed to be stackable, allowing you to maximise floorspace in your factory warehouse.
So, what exactly are the different types of stillages, and what can they be used for? Using our knowledge and experience within the industry, we've outlined some of the most common types of stillages to give you an insight into their functions and practicalities.

Hypacage
A
hypacage
is a lightweight and versatile stillage used for moving, handling and storing large items. The wire mesh exterior is fully compactable and folding, making it easy to store without taking up too much space. A hypacage also tends to have side hatches that can be lowered to allow easier loading and unloading of products. As you can imagine, this makes things much easier for those who are doing the loading. It also reduces the risk of injury and prevents damage to the products.
Metal cage stillages
Metal cage stillages are often designed with either solid sheet metal sides, mesh steel sides, or a combination of both. They are typically used to hold smaller products, such as clamps, struts, supports, and other items. Having said that, here at BlueTrolley we can design and produce a metal cage stillage that is specifically designed for your requirements – whether that be for small or large items. Have a look at our
made to measure service
for more information.
A frame stillages
Designed to safely store heavy duty items,
A frame stillages
are used to store large, flat items such as wood panels or glass. They ensure materials are protected from damage, and those that are built with castors are ideal for manoeuvring bulky and fragile loads.
Here at
BlueTrolley
, we also offer weight testing on some of our A Frame stillages to ensure that they are sturdy, reliable and fit for purpose. You can
contact us
to see if we have an A-frame stillage that suits your requirements or talk to us about creating a stillage that's right for you.
Warehouse cages
Warehouse cages
are an extremely versatile stillage, meaning that they are ideal for use in a number of industries, such as large or small parcel companies, sorting offices, supermarkets, and more.
This type of stillage is can be designed in one of two forms; static or wheeled. A wheeled warehouse cage provides an alternative solution to using a forklift, making it easy to manoeuvre large quantities of heavy products around the warehouse. As a result, this increases workforce efficiency and mitigates the possibility injury from heavy lifting.
Contact us
Here at BlueTrolley, we manufacture a large range of stillages for various uses and can even design a bespoke stillage that is specifically made for your requirements. No project is too big or too small, so
get in touch
today to see how we can provide a solution for your storage and handling needs.