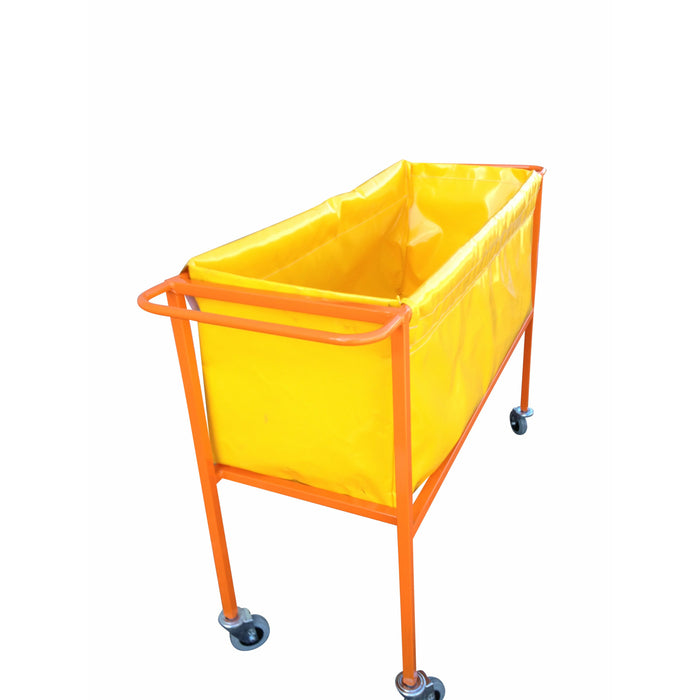 Warehouse Picking Trolley with Removable Bag
This warehouse picking trolley is ideal for use when picking items that are soft, lightweight, or irregular shaped items that don't stack. It is provided with a removable, heavy duty, yellow PVC bag to store items in safely. When the bag is removed, the trolley has a metal base for storing larger or flat packed items on. 
With two handles large looped handles at each end, this warehouse picking trolley can be handled using one or two hand operation. You can also move the trolley up and down aisles without the need to turn the warehouse picking trolley around. 
To give this warehouse picking trolley perfect handling and easy manoeuvrability, we have fitted it with four swivel rubber wheels.
This warehouse picking trolley with removable bag would be ideal for use in warehouses, retail, storerooms, libraries and any other picking and packing environments. 
Product Features:

Overall dimensions (mm): 1200l x 600w x 900h
Load capacity (kg): 100
Fitted with four 100mm swivel rubber castors
Two large looped handles at each end of the trolley
Removable heavy duty yellow PVC bag
Finished with a hard wearing orange powdercoat