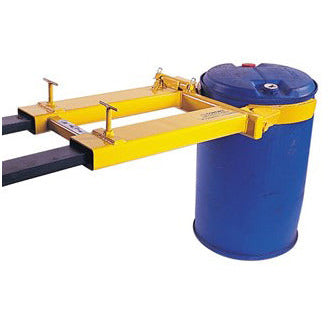 Our Universal Drum Grab is designed for low to medium movement of steel and plastic drums of up to 210 litres. Its quick-slide-two-position adjustor ensures secure and reliable handling of drums.
The universal dram grab handles the steel drums via the rolling hoops while the plastic drums are handled via the underside of the drum lip. The zinc-plated fork screws provide absolute security for the grasp of drums.
Make sure your drums are handled safely and securely with our Universal Drum Grab.
Supplied with 3 year warranty, fully tested & certificated
* Delivery lead time - 10 working days *
* FREE Delivery *
Product Features:
Load capacity: 500kg

Drum type: 210 litre steel, 'L' & 'XL' plastic

Number of drums: 1

Maximum fork size (mm): 140 x 50

Fork spread (mm): 560

A professional, powder-coated yellow finish

3 year warranty