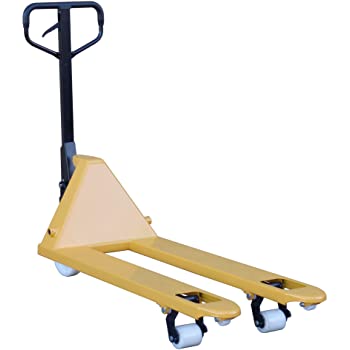 Standard Hand Pallet Truck
We have designed our standard hand pallet truck for everyday, heavy-duty use which is likely to occur in factory and warehouse settings, making them a great solution for manual handling in a safe manner. This truck also comes with nylon steer wheels and load rollers as standard, which contain fantastic load-bearing qualities meaning that they have been built to last.
This standard pallet truck has a comfortable ergonomic handle with a rubberised plastic grip, enabling you to easily manoeuvre this piece of equipment.
We know the importance of choosing a high-quality solution which is why we design and manufacture our own products - and if none of our standard products hit your specific requirements, then we can work with you to create a bespoke solution.
Product Features:
Load capacity: 2500kg

Width over forks (mm): 540
Fork length (mm): 1150
Lowered height (mm): 85
Raised height (mm): 200
Supplied with nylon steer wheels and load rollers for great durability up to 2500kg