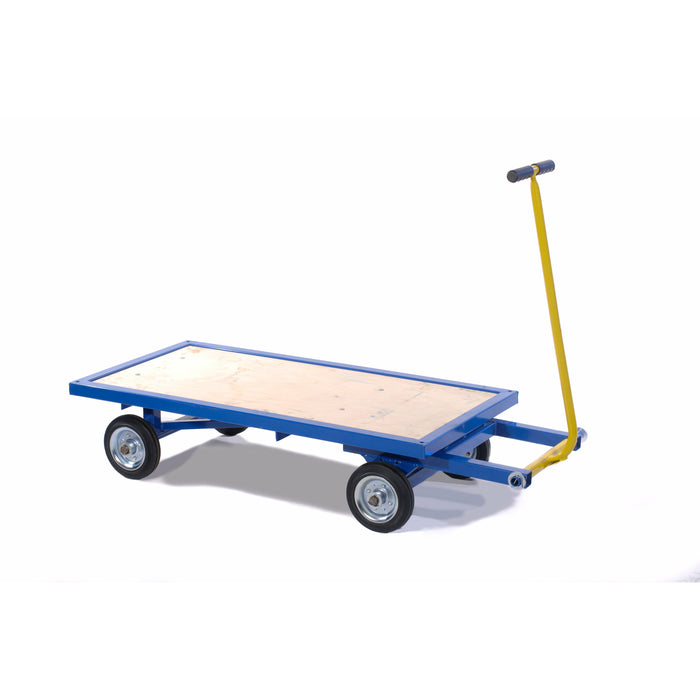 Small Turntable Platform Truck Solid Wheels
This small turntable platform truck is manufactured to high quality and will carry variety of sizes up to 500kg. This turntable truck transports and stores heavy, hard-to-move items with ease. The strongest selling point of this turntable truck is its narrow width enabling it to moved through a doorway or limited space.This is ideal usage for stock rooms, warehouses, office supplies and mail distribution.
Product Features:
Overall dimensions (mm): 258h x 600w x 1200l
Trolley bed dimensions (mm): 1118 x 518
Load capacity: 500kg
Anti-friction turntable
Plywood base (18mm) on box section
Fully-welded and reliable construction
200mm solid rubber wheels for great durability up to 500kg
A professional, powder-coated blue finish
Large 'T-handle' pull bar for easy manoeuvrability
Made to order trolleys, carts, cages and storage
Can't find what you're looking for in our range? No problem. We can create bespoke trolleys, carts, cages or storage equipment to your exact specifications.
Speak to us to explain exactly what you need, and we'll produce a prototype that you can test however you please. Once you're happy, our expert design team will manufacture your order, using parts exclusively from the UK.
Bulk or single orders
If you're looking for a one-of-a-kind item, or a bulk order, we can help. Whatever size, function or material you're looking for – get in touch to see how we could bring it to life.
Contact Sales