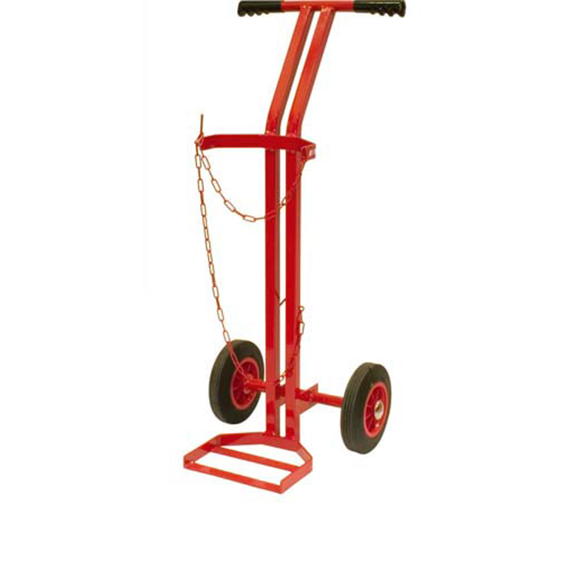 Small Gas Cylinder Trolley
Our small gas cylinder trolley is a vital piece of equipment for the workplace, moving cylinders safely and effectively without the need for heavy lifting.
Cylinders can become damaged when being moved across the factory floor without the correct equipment. This gas cylinder trolley features an adjustable security chain which can support cylinders up to the maximum dimensions of 230 x 190mm, enabling them to be transported safely. 
Moving heavy objects is often stressful on the body, but our gas cylinder trolley is lightweight and manoeuvrable and so avoids physical strain for the user. Transporting cylinders across different surfaces can prove difficult, but our trolley is fitted with 200mm large solid rubber wheels which are ideal for use across all surfaces including rough and uneven ground.
Transporting heavy objects can be hard wearing on the hands but our gas cylinder trolley has two black PVC handle grips, to provide the user with an ergonomic grip, enabling users to work comfortably.  
This small trolley is sturdy and hard-wearing and can withstand the stress of heavy industrial use. It also features a red powder-coated finish which gives it a professional look and prevents any rusting.

Product Features:
Base dimensions (mm):230w x 190d
Height of trolley (mm): 980
Fitted with two 200mm solid black rubber wheels
Capacity: one gas cylinder
Suitable for use with cylinder sizes S, X, V, T and Y
Fitted with an adjustable chain to restrain the cylinder
Fully-welded and reliable construction
A professional, powder-coated red finish