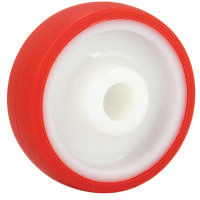 Red Polyurethane Tyre, White Nylon Centre | 80 - 125mm Wheel
These red polyurethane wheels range from 80mm to 125mm wheel diameter. The largest wheel can hold up to 300kg. Each wheel comes with a choice or plain or roller bearing.
Please use the table above to identify which wheel you require. Please then select the part number from the options above. If you require any assistance, please contact our sales team.