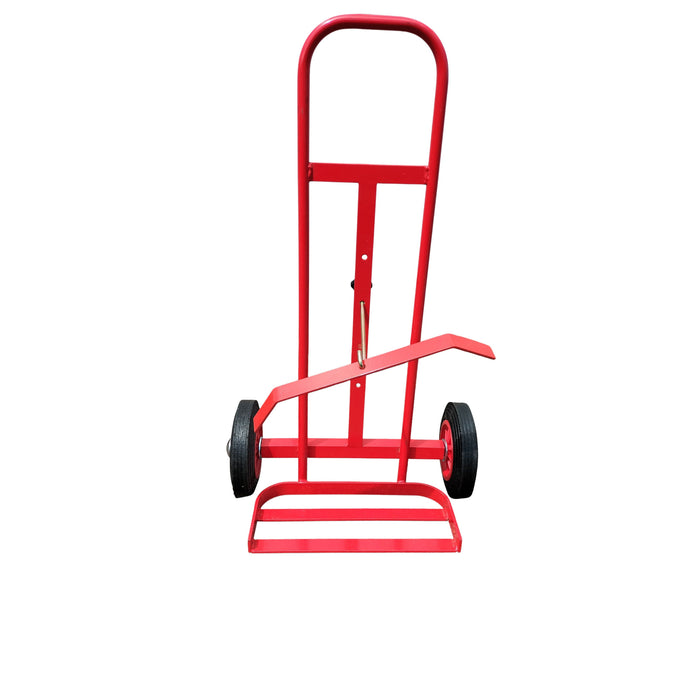 Portable Oxy Acetylene Gas Cylinder Trolley
This durable, heavy-duty welding trolley is designed to carry an Oxygen Size EF cylinder and an Acetylene Size KM cylinder. Ideal for use with Porta pack systems. Robust wheels ensure its dependability. 
The portable oxy acetylene gas cylinder trolley features a sturdy steel frame and heavy-duty wheels. It is also equipped with a safety bar to prevent the cylinder from falling off. The trolley is easy to manoeuvre in tight spaces.
It offers a number of benefits, including:
Improved efficiency: The trolley makes it easy to move cylinders around your workplace, freeing up your staff to focus on other tasks.
Increased safety: The trolley's safety bar prevents the cylinder from falling off, reducing the risk of accidents.
Reduced risk of injury: The trolley's ergonomic design reduces the risk of back injuries and strain when moving cylinders.
Product Features:
Overall dimensions (mm): 850h x 500w x 300d
Fitted with two 200mm solid black rubber wheels
Capacity: two gas cylinder
Suitable for cylinder sizes Oxygen E&F, Acetylene K&M 
Fitted with a safety bar for securing cylinders
Weight: 8kg
Fully-welded and reliable construction
A professional, powder-coated red finish