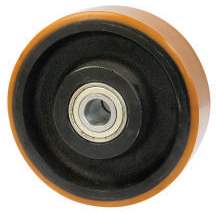 Polyurethane Tyre, Cast Iron Centre | 100 - 300mm Wheel
These wheels have a polyurethane tyre and a cast iron centre. They come in 6 different sizes and are all supplied with ball bearings. These polyurethane wheels can hold between 450kg and 2200kg! 
Please use the table above to identify which wheel you require. Please then select the part number from the options above. If you require any assistance, please contact our sales team.