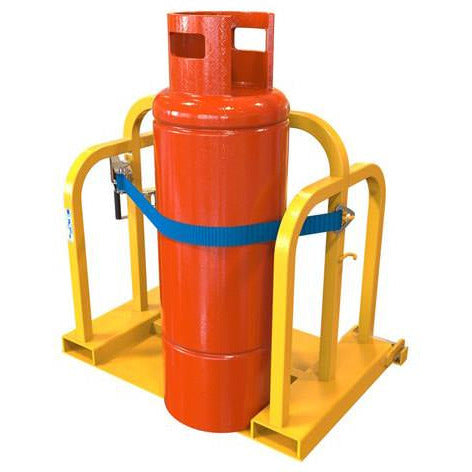 Multi Purpose Gas Bottle Handler
Transport gas cylinders safely with this Multi Purpose Gas Bottle Handler. Fork pockets provide quick and easy fitment to a lift truck, while webbing and ratchet straps ensure a secure hold for a variety of cylinder sizes from 240mm Butane to 318mm Propane cylinders.
The heel pin retention and low profile design offers additional security when loading and carrying. Finished in safety yellow and "CE"-marked, the Gas Bottle Handler meets Health & Safety Regulations.
Backed by a 3-year warranty and fully tested and certified, you can rest easy knowing your bottles are secure.
Suitable for use with the following gas bottle combinations

4.5kg Butane - 240mm Ø x 4
6kg Butane - 306mm Ø x 4
7kg Butane - 256mm Ø x 4
15kg Butane - 318mm Ø x 2
3.9kg Propane - 240mm Ø x 4
5kg Propane - 306mm Ø x 4
6kg Propane - 256mm Ø x 4
13 & 19kg Propane - 318mm Ø x 2
* Delivery lead time - 10 working days *
* FREE Delivery *

Product Features:
Load capacity: 500kg
Maximum fork size (mm): 130 x 50
Fork spread (mm): 912

Weight (kg): 69
A professional, powder-coated yellow finish

3 year warranty