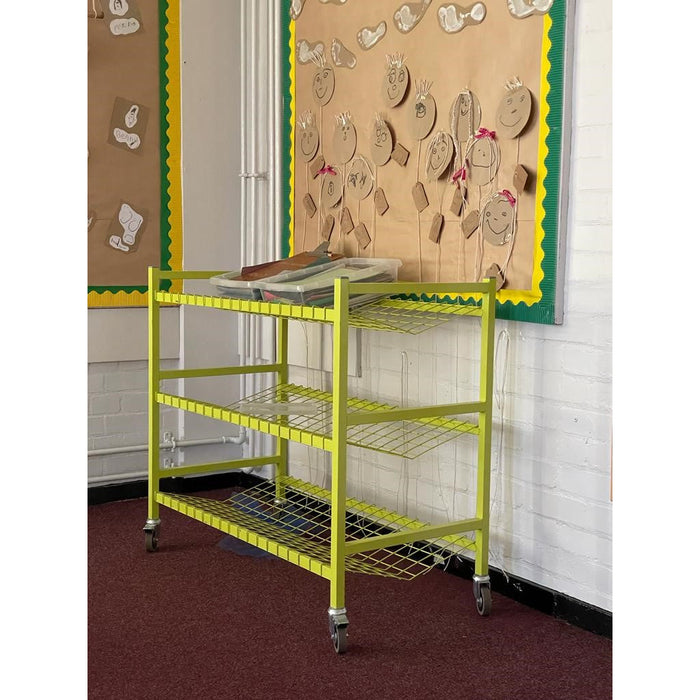 Our lunch box trolley is great for storing and transporting lunch boxes, bags or tubs of stationary.
We offer two different sizes to suit any size class. Our smaller lunch box trolley will hold around 24 lunch boxes whereas our larger trolley will hold around 36!

Our lunch bag trolleys are also available in 4 different colours!
Blue    Yellow    Green    Red 
Using a lunchbox trolley in a school setting can be incredibly beneficial. It allows for easy and efficient transportation of lunchboxes and other items from the cafeteria to the classrooms. This can help to reduce the amount of time spent on lunch deliveries, freeing up staff to focus on other tasks.
Additionally, the trolley can help to keep the lunchboxes organized and prevent them from becoming misplaced. This can help to reduce the amount of time spent searching for lost items. The trolley also helps to reduce the amount of physical strain on staff, as they no longer need to carry multiple lunchboxes at once.
Finally, the trolley can help to reduce the amount of noise in the hallway, as it eliminates the need for students to carry their lunchboxes. Overall, a lunchbox trolley can be a great addition to a school setting, providing a range of benefits to both staff and students.

To provide a smooth and easy push, we have fitted this trolley four grey swivel castors and two of which are lockable for safety purposes.
BlueTrolley.com have manufactured this trolley to a high standard, ensuring our customers are always 100% satisfied. 
Product Features:
Overall dimensions Small (mm): 900h x 500d x 610l

Overall dimensions

 

Large (mm): 900h x 500d x 1020l
Fitted with four 75mm grey rubber castors
Two wheels are lockable
Fully welded and reliable construction
A professional, powder-coated finish