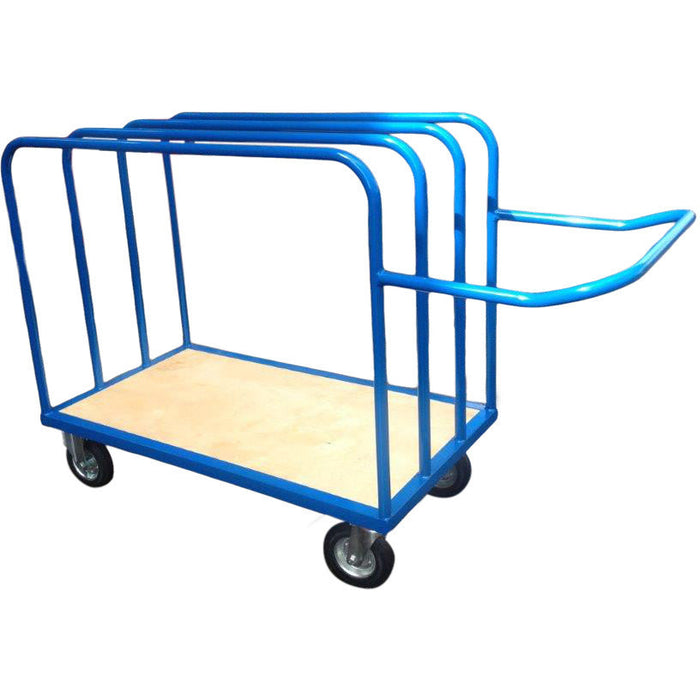 Using a gym mat trolley can help ensure high health and safety standards in a gym or fitness facility. It provides a convenient way to move heavy and bulky gym mats from one area to another, reducing the risk of injury from manual lifting.
Additionally, it can help keep the facility organized, which can reduce the risk of tripping and falling. By using a gym mat trolley, it is easier to keep the gym mats in good condition, as they can be moved and stored safely, reducing the risk of damage.
Finally, using a gym mat trolley can help to reduce the amount of time needed to move and store the mats, which can help to keep the gym clean and organized.
BlueTrolley have designed this gym mat trolley to hold up to 27 6ft x 4ft gym mats. Complete with 4 upright supports to prevent the mats from falling and an extended handle for easy and safe manoeuvring. 
The castors fitted to this trolley are 8" black rubber wheels with a choice of swivel, fixed or braked brackets.  
Should you require any alternative size, colour or even a completely bespoke item, please contact us here for further information and prices. 
Product Features:
Overall dimensions, including handle (mm): 1800l x 700w x 1120h
Trolley base dimensions (mm): 1200l x 700w

Height of support (mm): 900

Length of handle (mm): 600

Can hold up to 27 6ft x 4ft gym mats
Fitted with 4 x 200mm black rubber castors

Varnish wood base
Fully-welded and reliable construction
A professional, powder-coated blue finish