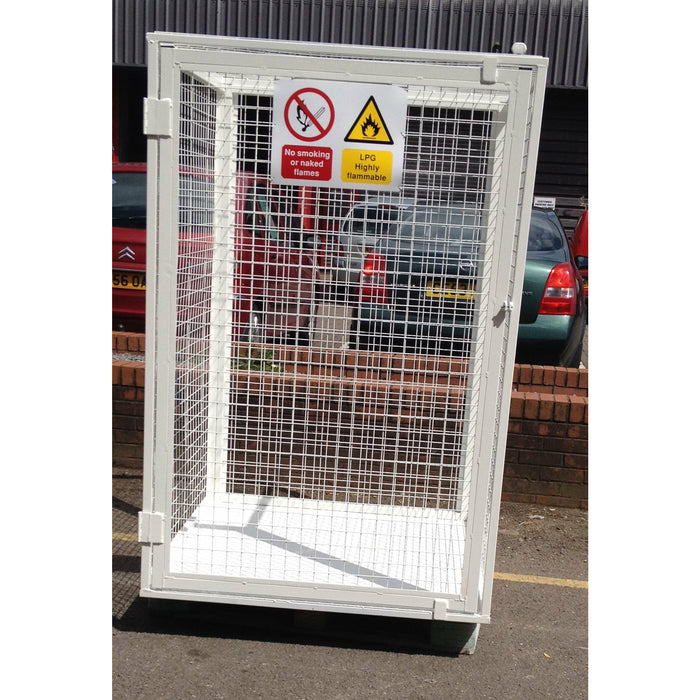 Gas cylinders contain highly flammable substances and, as such, their safe storage is of the utmost importance. Our gas bottle storage cage has been designed specifically for gas storage, offering a high standard of safety and security when storing gas cylinders on site. 
This gas bottle storage cage can hold up to 9 x 47kg cylinders. The generous capacity of this cage will enable you to safely store a large volume of gas, saving you concern about whether you have enough room. 
To help transport this cage around site when not in use, we have added fork guides. This means you can easily bring the cage in and out of storage, keeping your business site organised and efficient. 
The gas bottle storage cage has a solid sheet metal base, designed to provide extra stability and support for cylinders to sit on. This also reduces the risk of warpage or damage when moving the cage. 
The sides and roof of the cage are manufactured with mesh and a full length mesh door to the front of the cage. There is also a padlock point to securely lock the cage when required.
The final touches to the gas bottle storage cage is a hard wearing, long lasting, white powder coat. 
The gas bottle storage cage is supplied and fitted with all relevant and important signage, as shown in the images provided. 
Product Features:
Overall dimensions (mm): 1800h x 1200w x 1200l*

Fork guides attached for use with fork truck

Capacity: 9 x 47kg cylinders

Three closed mesh sides, mesh roof and one mesh door

Solid sheet metal base

Padlock point to secure the unit

Relevant signage attached as standard

Fully-welded and reliable construction

A professional, powder-coated white finish

Bulk discount available on large quantities,

contact our sales team

for further information 
*We design and manufacture cages for all purposes and can offer various sizes to suit your requirements. We can also offer a discount on bulk orders. If you're interested, please contact our sales team for further information.