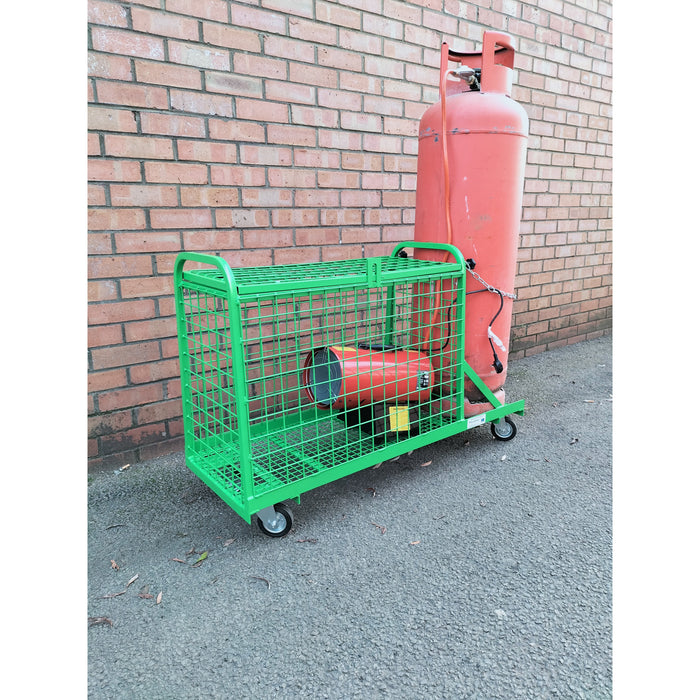 The colder winter is upon us and we want nothing more than a warm, working environment. However, we must always keep in mind Health & Safety and Fire Risk Assessments as a priority.
BlueTrolley.com has designed and manufactured a guard to help protect your staff from burns and workplace from fire. Simply place this guard around your gas space heater to help reduce the risk of trips, falls, burns and fire. Remember it is always recommended to keep a 2 metre clear space around any gas blower heaters. 
With space at the rear to securely strap your gas cylinder, this make storing and transporting your heater as easy and safe job. For extra security, we have fitted a hasp and stable to allow you to use a padlock. 
Here at BlueTrolley.com, we are manufactures. Should you require an alternative size, colour or alternation, please contact us where we will be happy to quote. 
Product Features:
Overall dimensions (mm): 1200l x 800h xx 375w
Fitted with 125mm black rubber castors
Clasp for padlock
Fully-welded and reliable construction
A professional, powder-coated green finish
Two looped handle for easy handling
Made to order trolleys, carts, cages and storage
Can't find what you're looking for in our range? No problem. We can create bespoke trolleys, carts, cages or storage equipment to your exact specifications.
Speak to us to explain exactly what you need, and we'll produce a prototype that you can test however you please. Once you're happy, our expert design team will manufacture your order, using parts exclusively from the UK.
Bulk or single orders
If you're looking for a one-of-a-kind item, or a bulk order, we can help. Whatever size, function or material you're looking for – get in touch to see how we could bring it to life.
Contact Sales