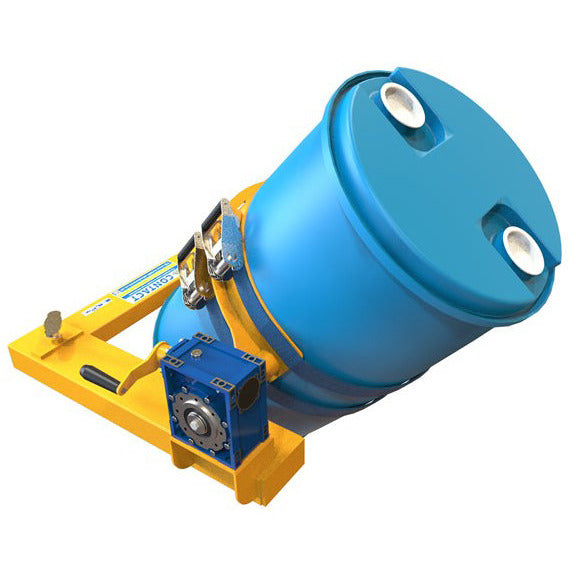 Fork Mounted Drum Rotator
Our professional-grade Fork Mounted Drum Rotator offers a safe and reliable solution for rotating drums up to 210 litres. This drum rotator comes with the option of a crank handle (for shoulder height rotation) or a loop chain (for above shoulder height rotation). This is then connected to a high-quality gearbox to allow the drums to be rotated 360° with ease.
Suitable for used with 210 litre steel drums and 'L' & 'XL' ring plastic drums. 
The rotator is secured to the lift truck via large 'T' screws and the drum attached using two webbing and ratchet straps, ensuring secure operation.
Fully tested and certified with a 3-year warranty included.
* Delivery lead time - 10 working days *
* FREE Delivery *

Product Features:
Load capacity: 360kg

Drum type: 210 litre steel, 'L' & 'XL' plastic drums

Method of rotation: Crank handle or Loop chain
Number of drums: 1

Maximum fork size (mm): 140 x 50

Fork spread (mm): 560

A professional, powder-coated yellow finish

3 year warranty