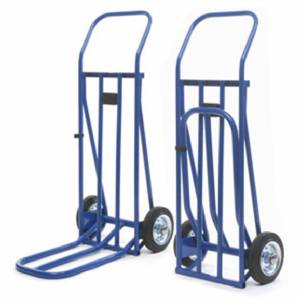 This heavy duty folding sack truck was created to keep your business moving forward safely and reliably.  It's the largest heavy duty folding sack truck in our sack truck range (with a folding toe plate of 460mm), enabling the efficient movement of bulky items and easy storage.
With a focus on endurance and longevity, this folding sack truck is made of high quality mild steel and specifically designed to give maximum support to the toe plate. This means users can confidently lift heavy loads time and again. 
Though, a large sack truck doesn't mean you need to compromise on storage space. This heavy duty folding sack truck takes up a smaller footprint in your business by folding away neatly when not in use. The toe plate folds upright and is fixed securely with a magnet.
Moving heavy loads also comes with risks and potential physical stress. We've included large looped handles on our folding sack truck to offer more control and comfort to the user. 
This folding sack truck would be an asset to any warehouse, factory, or any environment where large and bulky objects need to be moved around.

Product Features:
Overall dimensions (mm): 950h x 460w x 700l (when toe plate is folded)
Toe plate dimensions (mm): 460l x 300w
Two 200mm solid rubber wheels with a steel centre for great durability
The toe plate can be folded easily for storing the sack truck
Fully-welded and reliable construction
A professional, powder-coated blue finish