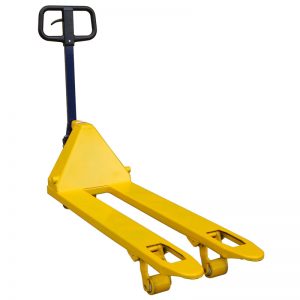 Here is our printers pallet truck that is robust built and designed for everyday use. This printers pallet truck is heavy duty and can carry loads up to 2500kg, ideal for moving pallets around the workplace and warehouse with ease! The pallet truck can handle euro sized pallets or half sized pallets and is commonly used in the printing industry. 
The printers pallet truck is fitted with a three position lever and an ergonomic handle that provides comfort and extra grip for the user. The lever is fingertip operated controlled lowering valve. 
All wheels on this printers pallet truck are fitted with sealed ball bearings to ensure the wheels provide great durability and long lasting. 

Product Features:
Load capacity: 2500kg

Width over forks (mm): 540
Fork length (mm): varies depending on which product you require
Lowered height (mm): 80
Raised height (mm): 200
Handle fitted with comfortable plastic cover
Fingertip operated controlled lowering valve
Ideal for use with narrow, euro or half sized pallets