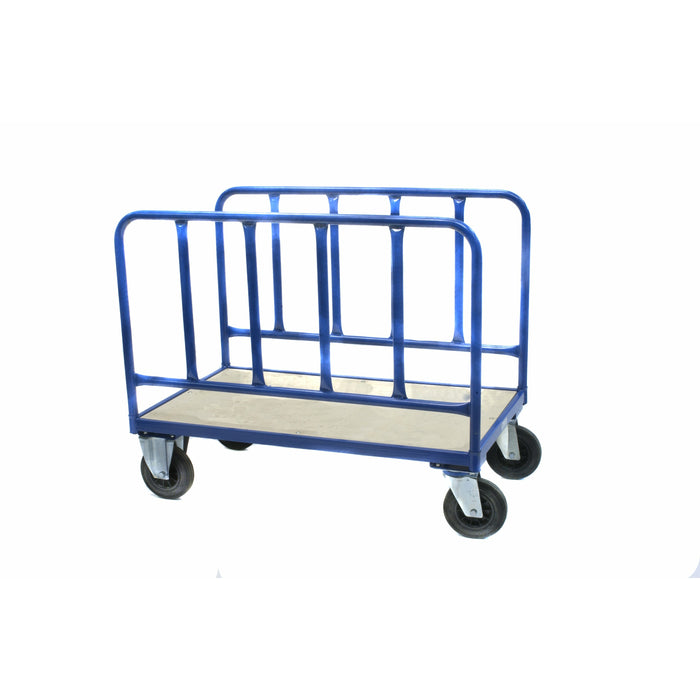 Flatbed Trolley with Sides
Our flatbed trolley with sides is the perfect trolley for use in the warehouse. It will help transport heavy items, tools or accessories around the work place with ease. The flatbed trolley is fitted with two vertical sidebars to both long sides of the trolley to support the load you are transporting. The flatbed trolley with sides is also ideal for transporting loads with long lengths. 
This flatbed trolley with sides is fitted with four large rubber wheels with a choice of fixing. You can choose between fixed, swivel and braked to suit your requirement. Solid black rubber wheels provide a smooth running and are great on most ground surfaces. 
We have manufactured the flatbed trolley with sides using strong tubular steel to provide our customers with a durable, long lasting trolley. The base of the flatbed has 18mm thick ply to provide a strong deck for your items. 
This flatbed trolley with sides is ideal for use in
 supermarkets, D.I.Y stores, factories, warehouses, office and more.
Product Features:
Overall dimensions (mm): 1000h x 700w x 1200l
Load capacity: 500kg
Fitted with four 200mm black rubber with a strong steel centre - choice of fixing available.
Fitted vertical sidebar handles at each side of the trolley
Fully welded and reliable construction
A professional, powder-coated blue finish