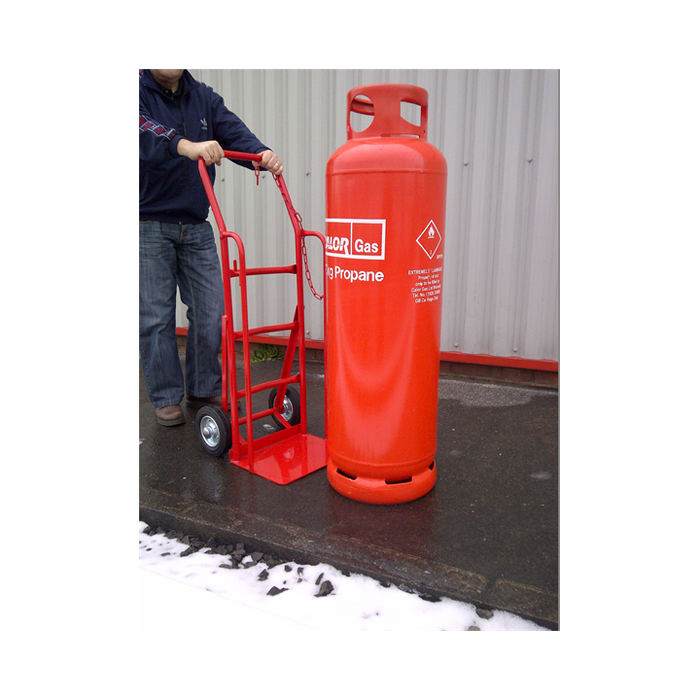 Universal LPG Gas Cylinder Trolley
This universal liquid petroleum gas (LPG) bottle trolley is designed to be safe and reliable, and is manufactured to carry all sizes of LPG cylinders - in both propane and butane - up to 47kg. The LPG gas cylinder trolley has a curved back and bar to prevent side rolling and features a security chain to securely lock the cylinder during transit.

Gas bottle trolleys, or lpg gas cylinder trolleys, are a vital piece of equipment when it comes to safely moving gas bottles that contain dangerous substances such as Liquefied Petroleum Gas (LPG). Without them, cylinders can be damaged in transit across the factory floor, and the people trying to move them are at risk of sustaining an injury - especially when it comes to moving heavy cylinders. 
Product Features:
Overall dimensions (mm): 1100h x 600w x 550l
Toe plate (mm): 300
Fitted with an adjustable safety chain
Fitted with two 200mm solid black rubber wheels
Capacity: one gas cylinder
Butane gas sizes: 4.5kg, 6kg (BBQ gas), 7kg, 13kg, 15kg.
Propane gas sizes: 3.9kg, 5kg (patio gas), 6kg, 9kg, 11kg, 12kg, 13kg, 18kg, 19kg, 45kg, 47kg.
Fully-welded and reliable construction
A professional, powder-coated red finish