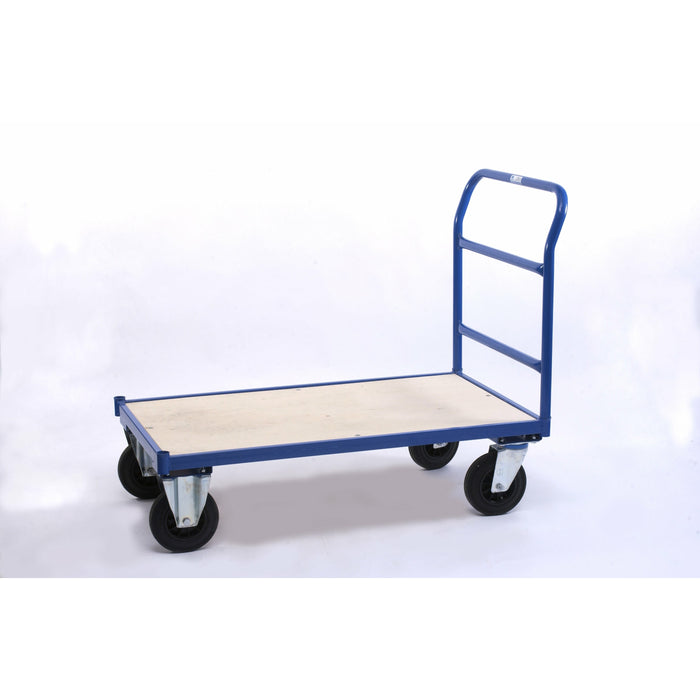 Flatbed Trolley with Open Handle
Every business knows the importance of transporting goods safely, securely and efficiently. Here at BlueTrolley we have a range of flatbed trolleys to help address these needs. 
This flatbed trolley with open handle is the ideal trolley for moving goods up to 500kg, too heavy or awkward to move by hand. Our reliable trolley will save you time and effort when needing to transport your items around the workplace or home. 
Our flatbed trolley with open handle is fitted with one handle that can be removed to allow for bulkier load (up to 500kg) to be easily lifted on. This can be achieved in just a few minutes and is easy to do! Having a removable handle is also ideal for transporting or storing the flatbed trolley when not in use. 
We have manufactured this flatbed trolley with open handle using strong tubular steel and an 18mm thick ply decking. This trolley is manufactured to be reliable, low maintenance and to last a long time! It is fitted four 200mm black rubber castors with steel centres. You can choose what fixing castor you require from the options displayed above. 
This flatbed trolley with open handle is ideal for use in a warehouse, retail, garden, landscaping, factories or even around the home and garage!
Product Features:
Overall dimensions (mm): 1000h x 700w x 1200l
Platform Trolley Load capacity: 500kg
Fitted with four 200mm black rubber with a strong steel centre 
Choice of castor fixings available from the options above
Fitted handle at one end of the trolley
Fully welded and reliable construction
A professional, powder-coated blue finish