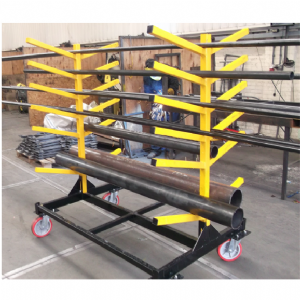 Here is our pipe storage rack which is designed for the convenient storage and movement of pipe and tube sections in factories and on site.
This pipe storage rack has two storage rack arms that can be folded flat onto the base for easy storage when not in use. The arms can then be fixed into place to allow pipe and tube sections to be stored. The storage arms have varying space allowing for the storage of various pipe sizes. 
The pipe storage rack is fitted with large polyurethane castors, two of which have fitted brakes to lock the storage unit into place for loading and unloading. These castors are ideal for use on all floor types including hard and uneven grounds. 
Manufactured with a heavy duty steel section base frame and the arms are constructed with RHS box section. This pipe storage rack can store up to 1000kg of material evenly distributed between the storage arms. 
Product Features:
Overall dimensions (mm): 1735h x 1050w x 1650l

Load capacity: 1000kg
Fitted with two swivel and two braked 150mm polyurethane castors
Heavy duty steel section base frame 
Constructed with RHS box section supports
Fitted with two folding storage rack arms
Fully-welded and reliable construction
A professional, powder-coated black and yellow finish
Weight: 120kg