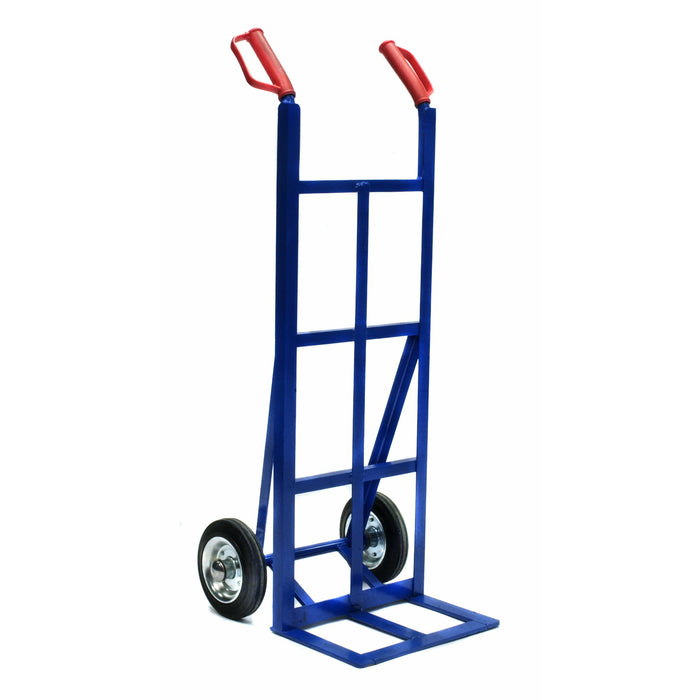 This multi load sack truck is our most popular sack truck because it has an exceptionally low price and high quality. This durable hand truck will address many different uses within the working environment or even at home. Take the strain out of lifting and shifting without feeling the pinch in your pocket. This warehouse trolley sack truck has a straight back lattice frame designed to handle a wide range of package sizes. This sack truck is fitted with double drip handles to ensure a good grip for the user and allow for maximum control over the load. 
Product Features:
Overall dimensions (mm): 1160h x 450w x 490l
Toe plate dimensions (mm): 380l x 220d
Fitted with two 200mm solid rubber wheels with a steel centre for great durability.
This toe plate is designed to provide maximum support and balance
Fitted with double handle grips for maximum control
Fully-welded and reliable construction
A professional, powder-coated blue finish
Made to order trolleys, carts, cages and storage
Can't find what you're looking for in our range? No problem. We can create bespoke trolleys, carts, cages or storage equipment to your exact specifications.
Speak to us to explain exactly what you need, and we'll produce a prototype that you can test however you please. Once you're happy, our expert design team will manufacture your order, using parts exclusively from the UK.
Bulk or single orders
If you're looking for a one-of-a-kind item, or a bulk order, we can help. Whatever size, function or material you're looking for – get in touch to see how we could bring it to life.
Contact Sales